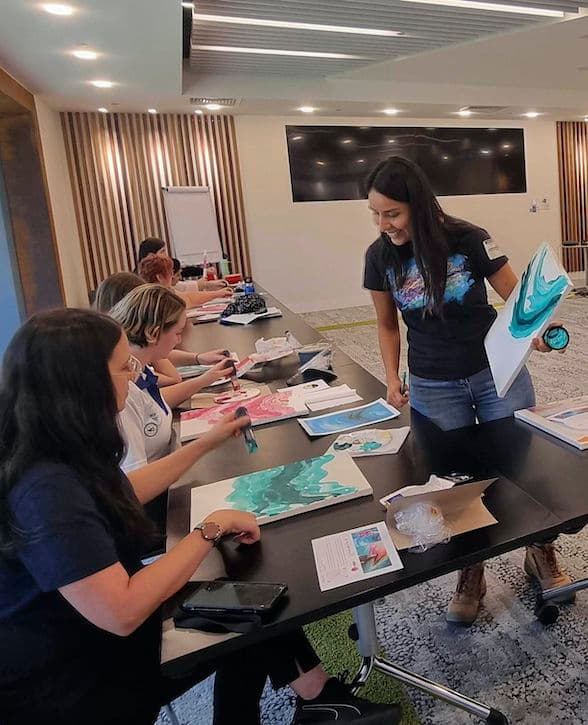 Corporate Workshops
SisterWorks offers a diverse range of workshops facilitated by our talented entrepreneurial Sisters. Workshops can be a positive team building activity, where participants try something new and get to know each other better.
About the Workshops
Workshops run for two hours and the cost covers all materials and tools. They are available to be held at your workplace in the Wider Melbourne Area.
Workshop Options
Wellbeing Painting: Learn painting techniques to increase happiness, manage your emotional wellbeing, and feel more confident.

Tranquil Yoga: Enjoy personalised and challenging classes to promote a positive experience of movement. It is a proven exercise program for busy people and an opportunity to create mental health habits.

Creative Paper Mache: Create something from simple and accessible materials. You will also learn to paint a ready-dried, paper mache sculpture made by the artist.

Basic Acrylic and Collage: Learn to create unique greeting cards using basic painting and collage techniques.

Simple Embroidery: Learn five basic embroidery stitches that will open the door to the stitching world. At the end of the session, you will go home with a finished embroidery piece and extra materials to keep exploring further.

Decorate with Illustrations: Learn simple but striking illustration techniques using acrylic paint pens.
Book A Workshop
Booking a workshop supports our entrepreneurial Sister who facilitates the workshop and contributes to SisterWorks Vision that all migrant, refugee and asylum-seeker women are economically empowered. 
To learn more about a SisterWorks Workshops or make a booking get in touch.