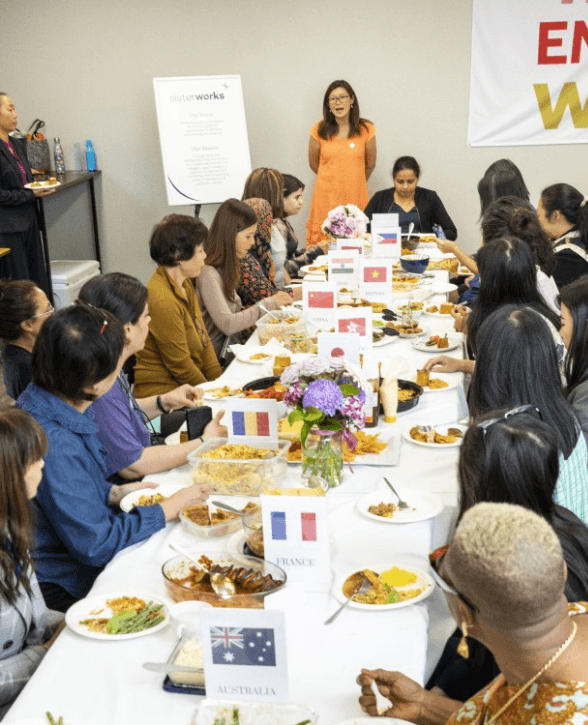 Fundraising
There are many ways to make a difference. Fundraising for SisterWorks helps us make a difference in the lives of migrant, refugee and asylum-seeker women.
Here are a few ways types of fundraisers you could hold:
Fun run

Meal

Dress-up day

Movie night

Bake stall

Art exhibition
No event is too big or too small.
Challenges
If holding an event isn't for you, you could challenge yourself and fundraise at the same time. There are lots of different types of challenges you could set yourself.
Physical Challenges - Run, walk, cycle, swim or ride for a set amount of distance. Do a set amount of actions over time for example push ups, sit ups or squats until you reach your goal.
Craft Challenges - Making a large scale craft project in the name of SisterWorks can be a fun way of fundraising. Knit, crochet, stitch or any other type of craft with a fun goal and fundraising target.
Birthday and Milestone Pledges
Looking for a way to celebrate a milestone and feel good with the impact you are making, have your friends and family contribute to SisterWorks by pledging in honor of your Birthday, Anniversary or other special Milestone.
Getting started
Before you start fundraising we ask that you register your fundraising activity here. This helps us keep track of fundraising activities being held on our behalf and that they are being held in accordance with Australian charity rules.
If you have an idea you'd like to discuss, need advice or have any questions regarding fundraising for SisterWorks, please contact our team today.
If you would like to make a one-off or regular donation to SisterWorks which will help us continue to train and empower our Sisters, you can easily make a donation.
SisterWorks Potluck
In 2023 we held our inaugural SisterWorks Potluck fundraising campaign, an easy and fun way to fundraise for SisterWork while catching up with colleagues, friends or family.
The campaign will be open in April - June each year in the lead up to Refugee Week. Hosting a Potluck is a great way to bring people together with food from their cultural backgrounds. Bring a plate to share with your family or team and provide a donation towards SisterWorks.
To learn more about how you or your organisation can join in the fun and host a Potluck lunch or dinner, or to sign up a team, please visit our Potluck Lunch website.