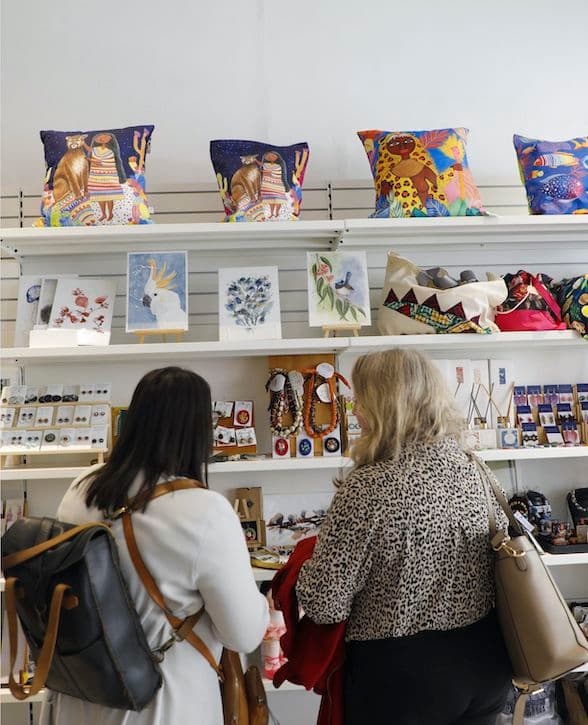 Shop and Cafe
Visit our shop and cafe to help support entrepreneurship and employment opportunities for migrant women.
Our shop and cafe provides entrepreneurship and employment opportunities to migrant, refugee and asylum seeker women - our Sisters. While also giving people an ethical community space where everyone can enjoy a tasty coffee, grab a bite to eat or purchase quality homemade and locally designed products.
Shop
Our retail shop specialises in Australian-made, sustainable products, which are unique, high quality, and ethically made by our Sisters. The shop is an ideal place to purchase gifts  (for yourself or others, while supporting vulnerable women.
We take pride in offering products produced by Sisters that are not only visually stunning but also carry a powerful story and cultural significance from around the world. 
Browse through our shop in Richmond, Victoria or shop online. This location is the third location of our shop, which has become a stalwart in Richmond for buying high quality gifts for birthdays, Christmas and other milestones. 
Crafted Culture Cafe
Located on Bridge Road in Richmond, our cafe offers delicious Australian cafe fare with a multicultural twist inspired by our Sisters' culinary heritage.
Our diverse menu includes:
Wraps and Sandwiches

Empanadas

Pastries

Coffee

Thai Milk Tea

Monthly Cultural Specials

Plus much more!
Catering
We also offer catering options that include platters, canapes, BBQ and packed meal options
Visit Us
Check opening hours and how to get to our shop and cafe on our Visit Us page.